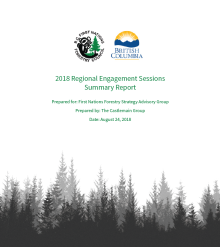 2018 Regional Engagement Strategy Summary Report 
 
From May to June 2018, the BC First Nations Forestry Council (FNFC) in partnership with the Ministry of Forests, Lands, Natural Resource Operations and Rural Development (FLNRORD) and the Ministry of Indigenous Relations and Reconciliation (MIRR) held seven (7) regional engagement sessions in BC to create opportunities for input from First Nations on the development of a revised BC First Nations Forest Strategy. The engagement sessions were each held over two (2) days, with the first days focusing on key components of a revised BC First Nations Forest Strategy, and the second day focusing on Provincial programs and initiatives. 
The purpose of the 2018 Regional Engagement Sessions was to gather direct input from BC First Nations to inform the development of a BC First Nations Forest Strategy in collaboration with the BC Government. The strategy will also form a renewed mandate for the FNFC. FLNRORD and FNFC have committed to going back to First Nations to review the contents of this report and further engage on the development of the strategy. Five (5) provincial forums are planned for September 2018 to discuss the draft strategy and an implementation plan.