FRPA
The Forest & Range Practices Act (FRPA), outlines how all forest and range practices are to be conducted on the public land in BC, while ensuring protection of plants, animals, and ecosystems. Some of the broad areas covered within it include Forest Stewardship Plans, Protection of Resources, Regulations & Standards, and more.
Bill 21 - The Forest & Range Practices Amendment Act - was passed in 2019 with no First Nations input or involvement.
Read Leadership Council Letter RE: Changes to Forest Policy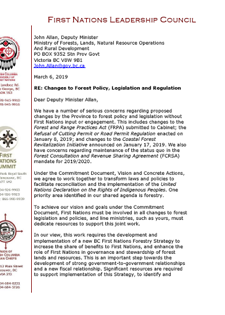 Dear Deputy Minister Allan,

We have a number of serious concerns regarding proposed changes by the Province to forest policy and legislation without First Nations input or engagement. This includes changes to the Forest and Range Practices Act (FRPA) submitted to Cabinet; the Refusal of Cutting Permit or Road Permit Regulation enacted on January 8, 2019; and changes to the Coastal Forest Revitalization Initiative announced on January 17, 2019. We also have concerns regarding maintenance of the status quo in the Forest Consultation and Revenue Sharing Agreement (FCRSA) mandate for 2019/2020.