Returning to work safely
A number of key resources listed below have been designed to help guide Indigenous businesses in Natural Resources through their safe return to operations:
Forest licensees must ensure that all activities of the forestry operation are planned and conducted by all parties at the worksite in a manner that limits worker exposure to COVID-19 during their return to work.
FNLC Covid-19 Resource Information
This resource includes financial aid information for Indigenous peoples and businesses
Support for interior forestry workers
Programs are now in place to support contractors, workers and communities impacted by indefinite and permanent mill closures in B.C.'s Interior. This website will be updated with resources and supports as they are established.
Membership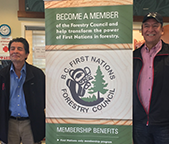 By becoming a member of the BC First Nations Forestry Council, you can gain access to all of our tools and resources. These have been developed collaboratively with industry partners, the Province, and using direct input from Indigenous communities across BC.