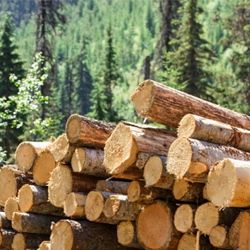 September 17, 2019 (Vancouver, BC) ­­– The BC First Nations Forestry Council (FNFC) has awarded 21 study and work scholarships for Indigenous students from over 17 Nations across the province this year, a record number for the program since its inception.
The Indigenous Forestry Training Program (IFTP) was launched by FNFC in 2012 in partnership with both the Ministry of Forests, Lands & Natural Resource Operations (FLNRO) and BC Timber Sales (BCTS) to help promote and create opportunities for BC First Nations people, specifically in the forest technician and management education and employment streams. 
"Helping to support a new generation of Indigenous workers and forest professionals in the BC Forest Sector through education and employment opportunities is a key pillar in our Workforce Strategy." says Dr. Charlene Higgins, CEO of the FNFC.
Recipients of the scholarships are required to not only be enrolled in full-time forestry-related studies, they must also carry out paid summer work experiences, as well as work one-on-one with a mentor to help better integrate them into their field of forestry on an individualized basis.
In a first for the program, FLNRO expanded its education and training streams this year to allow for placements in a variety of forestry sub-sectors, including Business Management and Administration, forestry trades, and Geographic Information Systems. This opens up the potential for increasing the number of industry partners who also want to participate in the delivery of summer internships.
"This expansion of the Indigenous Forestry Training program is an exciting opportunity to showcase the diversity of training and employment opportunities in the forest sector and its sub-sectors.  This will hopefully attract more Indigenous people to forestry, leading to the increased participation and success of BC First Nations peoples in the forest sector," says Higgins.
The 2018-2028 Provincial Labour Market Outlook report forecasted a significant turnover in the sector's aging workforce that translates to an estimated 11,419 new jobs by 2028.  
Joe Daniels, a student from Gitxsan Nation and one of this year's scholarship recipients, hopes to use this opportunity to improve things in his area:
"With realizing the coming potential for conflict between traditional knowledge holders and industrial professionals, I feel like it is my duty to develop the skills necessary to bridge the gap between those two worlds and provide the capacity to further develop indigenous leadership in land and resource management in my area."
–            End        –
More media enquiries, please contact:
Michael Robach
Communications Manager, BC First Nations Forestry Council
Phone:  +1 778-939-4184
Email:  michael@forestrycouncil.ca
File Attachments
Heading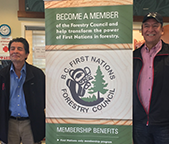 By becoming a member of the BC First Nations Forestry Council, you can gain access to all of our tools and resources. These have been developed collaboratively with industry partners, the Province, and using direct input from Indigenous communities across BC.