Event Details

Click here to download the invitation
To: CHIEF COUNCIL,
NATURAL RESOURCE/FORESTRY COORDINATORS
Re: INVITATION TO WORKSHOPS
The BC First Nations Forestry Council and the Ministry of Forests, Lands, Natural Resource Operations and Rural Development are holding 3 workshops to provide updates on both the Interior Forest Sector Renewal Initiative and BC First Nations Forest Strategy.
We will be providing information on input received by the MFLNRORD and an update on the implementation of a shared vision for a revitalized BC First Nations Forest Strategy. These workshops will also be ensuring that priorities continue to reflect community input.
Registration for the Workshops are now open. To register, please follow the links below:

A maximum of two (2) Nation representatives are eligible for travel expense reimbursements to one workshop. Please note that only the most cost-effective means of travel will be eligible for reimbursement.

For information on the Workshops, please contact:
Michael Robach, 778.939.4184 | michael@forestrycouncil.ca
For information on Travel, Registration, and Accommodations, please contact:
Amelia Robinson, 250.720.9308 | amy@forestrycouncil.ca
Ramada Williams Lake
1118 Lakeview Crescent, Williams Lake, BC V2G 1A3
(250) 392-3321
Best Western Williams Lake Hotel
1850 Broadway Ave S, Williams Lake, BC V2G 5G8
(778) 412-9000
Coast Fraser Inn
285 Donald Road, Willaims Lake, BC V2G 4K4
(250) 398-7055
Please note:
Meal per diems are not included
Continental Breakfast and Lunch are provided at the meeting
Please contact Amy at amy@forestrycouncil.ca for dietary restrictions
Click to download form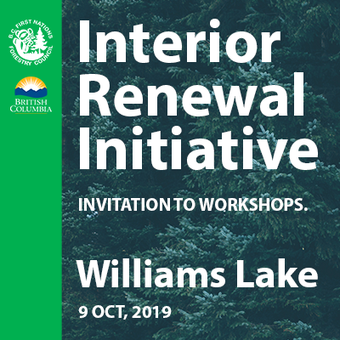 Ramada Williams Lake, 1118 Lakeview Crescent, Williams Lake, BC V2G 1A3