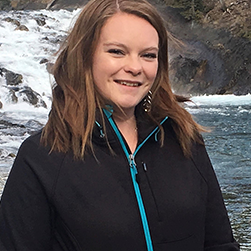 My name is Jenna McKenna and I am from the small town of Merritt, BC.
I am currently in the Bachelor of Natural Resource Science program at Thompson Rivers University. I chose this program to specialize in a variety of different areas of the natural resource sector. This not only provides more career opportunities, but having an understanding of how everything is related will increase my ability to do my job correctly and sustainably.
Since starting the BC First Nations Forestry Council's Work and Study Program, I have found many strengths both within my summer work placement and my studies at school; it has helped me push myself outside my comfort zone to gain all the experience possible.
I walked into my forestry placement with no background knowledge or experience, and I left with applied skills and an appreciation of what I can accomplish when I put my mind to it.
If you are considering pursuing a career in the natural resource sector, the Indigenous Forestry Scholarship Program is ideal. It provides an excellent opportunity to have the support to go to school and have priceless field experience in the summer. It may seem daunting at first, especially if you have little-to-no previous experience, but it is one of the best things you can do to jump start your education and acquire the skills you'll need in your career.
Having hands-on experience to relate to the things I'm studying has helped me grasp and envision the concepts that would otherwise be difficult to learn.
The entire crew at my summer placement went above and beyond to include me and give me the best field experience possible.
When I was hiking in the field, they took the time to teach me the plants that I would later be exposed to in university, and they also gave me the opportunity to learn how to operate some of the equipment. One of the crew members even let me shadow him and gave me every learning opportunity that he could. He was so incredibly patient and explained in depth what the tactics were for the work we were doing and why. He was happy to answer all of my questions and encouraged me to ask any that I had; his number one goal was to prep me for a future career and teach me everything he could.
When I came to school, I was prepared for a challenge but I was met with more than I had expected. I had enjoyed working so much and now it was time to get the education that would allow me to do this as a career. It was a daunting task for sure: I had to push myself to new levels and found that once I put the hard work in, I was capable of great things.
Now, I am nearing the end of my first year of four, and it feels great. Within the next 5 years, I hope to have finished my degree and entered the Natural Resource workforce.
---
Click here to find out more about the Indigenous Forestry Scholarship Program.
Membership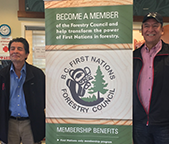 By becoming a member of the BC First Nations Forestry Council, you can gain access to all of our tools and resources. These have been developed collaboratively with industry partners, the Province, and using direct input from Indigenous communities across BC.