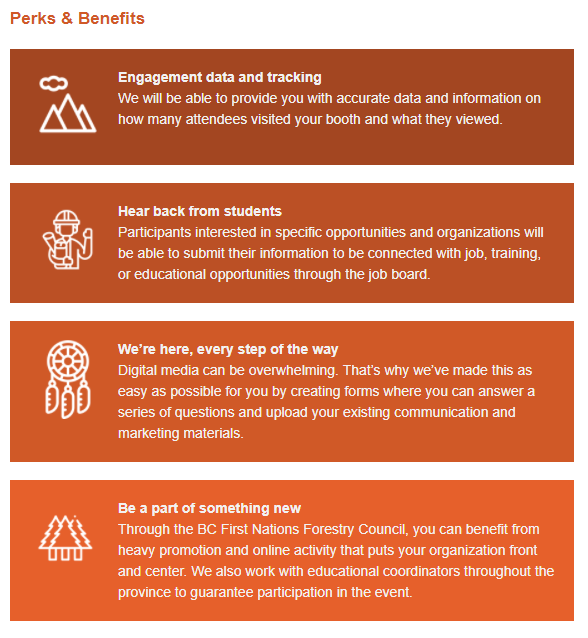 This is is not a webinar.

We're creating a virtual event that will go on for two weeks, starting September 21, 2020. During this time, students will be able to learn about new opportunities in forestry and find out more about industry leaders in their fields. 
 
Unlike similar events happening online right now, we're choosing to take a slightly different approach by focusing more on engagement using quizzes, forms, video, and more. This way, we're able to stay away from hosting Live video conferencing and other forms of content that require exhibitors and participants to be together in real-time. 
"Virtual" booths

Once registered to exhibit, organizations will be asked to complete an online form to supply us with your content (such as videos or infographics, pictures and links, handouts, and more) prior to the event. Using all of this information, our team will create their unique booth experience. They'll also be able to create short video clips showing what working or partaking in your programs might look like.

Students will be able to submit their information to exhibitors they are most interested in after browsing through your information. This way you'll have a list of candidates with all of their information at your fingertips.
---
What time can I attend?
The event website will go Live on September 21 until October 5th of 2020.
Is this only for people interested in forestry?
It is a forestry-focused event, but it is useful to note that there are more opportunities in forestry than you might think.
Whether it is working in an office, developing safety procedures, delving into mechanical and technical areas of natural resource management, as well as hands-on labor intensive jobs, there's something for everyone! Equipment operating careers and science based careers are both also available in forestry.
How many exhibitors are there going to be?
Due to no venue size restrictions we can have more exhibitors than usual.
Exhibitors can register up until September 15th so we expect a large turnout.
Can I talk to exhibitors?
You will be able to request for the exhibitor to contact you, and you can submit a resume, Cover letter, and personal video message to the exhibitor.
How do I win prizes?
Entries for prizes are automatically submitted on your behalf when you register to attend, and with each booth or activity you participate in. Prizes will be mailed via Canada Post to the address you provided at registration.
When is registration deadline for exhibitors?
Will the online event cost the same?
The online event is considerably more work and will be two weeks in duration. However, our cost will still be a very reasonable $700 for a regular virtual booth, $350 for non-profit exhibitors and, as always, BC First Nations organizations are welcome to a complimentary booth.
What do I have to do to set up a booth?
Once you've registered you will receive a confirmation e-mail that includes all the information on how to set up your virtual booth.
Mostly, you will be prompted to upload any content you want displayed for the students. You can insert links to your organizations videos and infographic pictures, statistics, and it will ask you if you want to record a quick video message and greeting to the attendees as they enter your booth which you can do right there on the spot!
Can I see who visited my booth?
We are able to provide you with numbers of attendees to your booth and contact information for students who request to be connected with you. Any resume, Cover letter or video message that students created to send to you will be forwarded for your viewing.
How do I interact with students?
The best way to really impact the students who visit your booth is with a personal video greeting. You can create one when setting up your booth. 
Do I have to be available for 2 straight weeks?
Absolutely not! Your organizations content and video messages are set up in your virtual booth prior to the career fair start. During the 2 week event you may receive emails and calls from students during business hours that you can reply to at your convenience. No need to assign any particular staff to be on standby.
Do I have to register?
Yes. We need your contact information to send you door prizes and the grand prize if you win! We also hope you will engage with the exhibitors and submit questions to them. They will need to call or email you the answers.
Do I have to enter ALL the personal information questions to participate?
Yes in order for the program to guide you properly and send you things you request, we need your information to be correct and complete.
Can I win prizes?
YES!!! We have tons of great prizes and a grand prize draw for an ipad. We will mail all prizes won following the event
Will exhibitors see my interaction in their booth?
Exhibitors will be able to see how many participants visited their booth and how long they stayed. They will not receive any personal information about you unless you have requested to be connected by clicking the button to connect. 
How long does it take to see all booths?
That is up to you! You can spend as little or as much time in a booth as you like. If you run out of time you can always log out and then come back another day to check out some more. The career fair is available to you for 2 full weeks.
How do I contact exhibitors for more information?
There will be a button to click for more information and exhibitors will be notified that you'd like them to contact you. We also provide you the opportunity to make a quick and easy resume, cover letter and video message to send to exhibitors of your choice.
Can I leave and come back without re-registering?
You will be issued a unique login code after you register the first time that you can use to log in or out as much as you want for 2 weeks starting Sept 21st.
Can I track my student's engagement at the event? (Booths visited etc.?)
Yes, We will be able to provide an overview of which booths were visited.
How much online time is required for a student to benefit from the event?
It depends on the student. Some students with less knowledge about the forestry industry may want to spend more time to better familiarize themselves with all the different and varied opportunities. As with any in person career fair 3-15 minutes per booth should be sufficient.
What do I need to do to facilitate their registration?
As the person assisting the students and clients, you will need to ensure they have wifi or internet access, a computer, tablet or mobile device to register and attend the career fair, and a quiet space so they can listen to and view the information.
Can I register as a class?
Each student will need to register individually so they can be entered for prizes and get feedback from exhibitors that they have requested information from.
Can I do this as a class activity?
Yes! We encourage teachers to utilize this as a class activity or virtual Field trip career fair. There is much to learn and many opportunities for students.
Is this only for Indigenous students?
We welcome any students however our programs and opportunities are Indigenous focused. We will also have an opening ceremony by an Elder to commence the event.
Will students be able to find job opportunities?
YES! Students will have the opportunity to fill out a resume, create a cover letter and even record a brief video to introduce themselves to employers right within the career fair. There will be a job board section where students can submit their resume, cover letter and/ or video to the organization of their choice.