THIS ARTICLE IS PART OF THE NEWSLETTER Issue 1 | 2018
This issue of Newsletter Issue 1, 2018 is available to our Members of FNFC. Join us!
International Aboriginal Youth Internship Takes Off!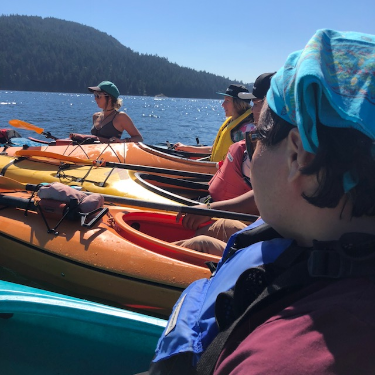 BC First Nations Forestry Council (FNFC) in partnership with the Government of Canada, the Jane Goodall Institute of Canada, Stratosphere International, and Fair Trade Uganda are sending five Indigenous interns to participate in our International Aboriginal Youth Internship (IAYI) in Uganda starting this Fall 2018.
FNFC spent three days in July with Indigenous interns from BC, Alberta, and Northwest Territories to address expectations, topics related to culture shock and cultural identities. The interns attended a number of activities, including the Talking Trees tour in Stanley Park, led by Candace Campo of Taylaysay Tours who will be joining the attendees in Uganda and
providing valuable mentorship later this year. The participating Indigenous youth will be departing to Uganda on September 19th, 2018.

The internship program will run from 2018 to 2022 for First Nations and Metis students of 19-30 years of age. The internship program provides them with opportunities to participate in sustainable forestry in Indigenous communities abroad.

Participating Indigenous youth are gaining valuable skills in a wide range of disciplines, including community development, forest stewardship and sustainability, as well as exposure to other Indigenous cultures.

2018 is the first of four years of the program will be connecting Canadian Aboriginal Youth with Indigenous Ugandans, enriching them with unique experiences and an opportunity to learn and bring new skills and insights back to their home communities.
The planned return for the current cohort of interns is January 28th, 2019.
The IAYI program for next year, the 2019 cohort, is now open for applications. To apply and learn more about this program, as well as other job and training opportunities, visit our First Nations Jobs & Training page.