Recent Policy Changes in BC and Implications to First Nations (2016)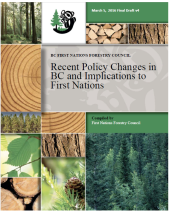 Statement of Law Regarding First Nations and Forestry (2015)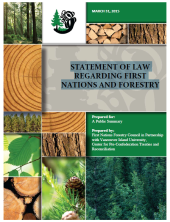 European Forest Market Opportunities (Apr 2009)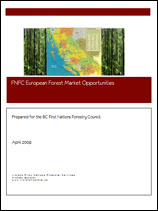 The BC First Nations Forest Council (FNFC) owned by the 204 First Nation of BC has a mandate to foster the development of forestry business opportunities on behalf of BC First Nations.
BC First Nation forestry opportunities are currently closely linked to the mainstream BC forest sector, unique opportunities exist to develop new and expanded opportunities in Western Europe to capture the interest in indigenously sourced wood products.
First Nations in BC are playing a greater role of the forest sector in BC. 160 of the 204 First Nations in BC hold over 260 forest licenses, with access to 35 million m3. This represents over 8% of the total tenure in the province. Current discussions between the FNFC and the Province of BC are leading towards possibly doubling this amount.
BC First Nations Forestry Stewardship & Action Plan (2008)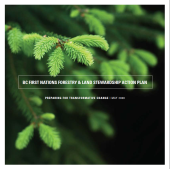 BC First Nations Mountain Pine Beetle Action Plan (2005)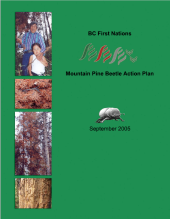 ESP Handbook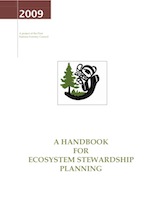 To date, the Working Group has assembled a group of First Nations land use planning champions to provide advice and guidance to these efforts and prepared a draft Ecosystem Stewardship Planning Handbook.
 
The ESP Handbook will:
Provide a method for First Nations to develop a community-driven process that achieves "Best Practices" from a First Nation's Vision and Values within the homelands.
Describe methods to protect a First Nation's culture and way of life in the homelands.
Help to describe how to capture the Nation's Vision, Principles and Goals in leading sustainable economic activity within our homelands while protecting our lands and resources.
Provide strategies to affirm our priority rights in land and resource planning decisions within our homelands.
The working group has also delivered land use planning presentations to a number of First Nations communities. 
For background information regarding ESP, please click here or for the scope of ESP, please click here.
Toolkit - Exporting BC First Nations Forest Products (Mar 2010)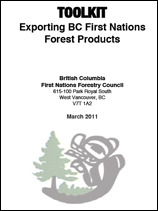 The British Columbia (BC) forest industry has seen considerable change recently as a result of the Global economy, and the Mountain Pine Beetle epidemic. BC First Nations (FN) forest tenure holders and businesses comprise a significant and growing part of the industry economic pie. Yet, actual harvest level shortfalls are resulting in unrealized economic potential of their tenures.
The need to increase actual FN harvest levels in relation to annual allowable cut (AAC) became more evident after the BC First Nations Forestry Council (FNFC) completed an economic review in 2010. Review from 2005 to 2009 showed that the actual total FN harvest level was approximately 56% of AAC. This shortfall averaged 3.8 million m3 per year, or 19 million m3 for the 5 years. Although this trend reflected the period's overall industry downswing, the impact on the industry and BC economy is a very important situation because the yearly harvest by FN tenure holders is about 9% of the entire BC harvest. As well, 57% of FN harvest is directed toward large integrated forest companies (the primary forest industry).
How to Create a Good Working Agreement (TLA)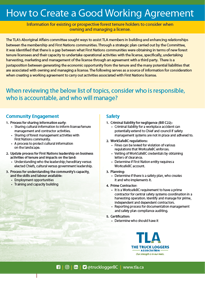 The TLA's Aboriginal Affairs committee sought ways to assist TLA members in building and enhancing relationships between the membership and First Nations communities. Through a strategic plan carried out by the Committee, it was identified that there is a gap between what First Nations communities were obtaining in terms of new forest tenure licensees and their capacity to undertake operational activities with the license, specifically, undertaking harvesting, marketing and management of the license through an agreement with a third party. There is a juxtaposition between generating the economic opportunity from the tenure and the many potential liabilities that are associated with owning and managing a license. The following serves as a source of information for consideration when creating a working agreement to carry out activities associated with First Nations license.
A British Columbia First Nations Forestry Workforce Strategy: Connecting First Nations Talent to Forest Sector Opportunities and Growth in British Columbia (2018)