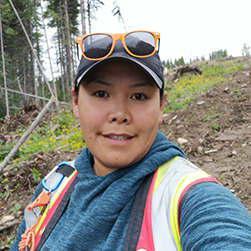 My name is Charmagne Moise. I am Dakelh from Nak'azdli Whut'en and I am from the Lh'ts'umusyoo (Beaver) clan. My love for being outside and working with people has led me to wanting to become an Applied Biology Technician. Thanks to the Indigenous Forestry Scholarship Program, I hope to get there within the next five years.
I am currently in the middle of taking the Environmental Resource Technology Diploma Program at the Nicola Valley Institute of Technology. It is very hands-on, which gets you ready for being in the field. Luckily our instructors are always very helpful and work with you if you need it or have any questions. Through this experience I discovered that I work well under pressure, and that I have the determination and perseverance to keep going when things get tough.
On my first day of work last year we got sent out to check if a road was flooded: I was the navigator. We started down this road and drove about 10 meters before we suddenly sunk into the road… instantly stuck! We worked all morning digging and collecting small trees on the cut block to put under the truck tires. Finally, at 1pm we had to call for help. My coworker was so hesitant to call; he thought we could get out by ourselves. After he made the call, one of our coworkers heard it on the radio and said he could assist us. But turns out my colleague was right: just as help arrived, we got ourselves unstuck!
Things I've learned:
How to get a truck unstuck
How to work under stress
To have patience
Drink water when you're working all day so your legs don't cramp
How to use an online map properly
Always have a shovel or two in the truck with extra boards (to stick under the tires)
Make sure you always bring your lunch and water with you, even if you are just going to check on a road that you don't have to get out of the truck for.
This program has also helped me reach my goals by financially supporting me for the past two years. My advisor at the BC First Nations Forestry Council calls to check in with me every month, which is nice. If I need anything, or if I have concerns, they are always there to help. Anthony Fast was one of my supervisors during my work placement and was always teaching us things. Brooklynn, a fellow student, and I had never done any silviculture work so we were greener than green out there. But he was always answering our questions even if they seemed silly to him; always very patient and kind to all of his crew.
To anyone considering the Indigenous Forestry Scholarship Program: just do it. It's only two years, so be committed to do what it takes to have what you want. Also make sure you have a support system set up, and call to ask for help when you need to.
---
Click here to find out more about the Indigenous Forestry Scholarship Program.
Heading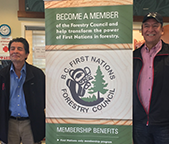 By becoming a member of the BC First Nations Forestry Council, you can gain access to all of our tools and resources. These have been developed collaboratively with industry partners, the Province, and using direct input from Indigenous communities across BC.