Forest Act Changes (Bill 22)
In 2019: Passed with no First Nations input or involvement
Although the Province committed to involving First Nations in changes to forest policy legislation, including regulatory review, Nations had no input into these amendments.
This was a lost opportunity to provide a mechanism to reallocate tenure to First Nations.
RE: Changes to Forest Policy, Legislation and Regulation – Bill 22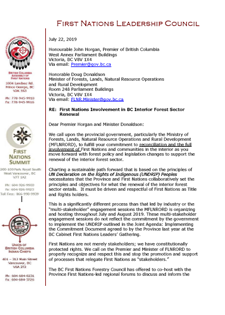 Dear Minister Donaldson,

We continue to have serious concerns regarding ongoing changes to forest policies, legislation and regulation without the involvement or input of First Nations. This includes changes to the Bill 21: Forest and Range Practices Act and Bill 22: Forest Act Amendment.

Under the Commitment Document, Vision and Concrete Actions, we agree to work together to transform laws and policies to facilitate reconciliation and the implementation of the United Nations Declaration on the Rights of Indigenous Peoples (UN Declaration). One of our initial priority areas identified is forestry.