Ecosystem Stewardship
An Ecosystem Stewardship Planning Working Group has been tasked by the First Nations Leadership council to formulate a First Nations planning framework that provides an effective means of meeting the goals of the New Relationship and of affirming the priority rights of First Nations to have a lead role in land and resource planning decisions within their territories.
"Ecosystem Stewardship Planning" means planning and management decision-making that is culturally relevant to First Nations that reflects their unique connection with land and resources and their inherent responsibility to care for the interconnectedness of the land, water, air, people animals and fish in a manner consistent with their spiritual beliefs and values.
To date, the Working Group has assembled a group of First Nations land use planning champions to provide advice and guidance to these efforts, and prepared a draft Ecosystem Stewardship Planning Handbook.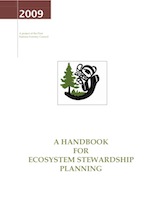 The ESP Handbook will:
Provide a method for First Nations to develop a community driven process that achieves "Best Practices" from a First Nation's Vision and Values within the homelands.
Describe methods to protect a First Nation's culture and way of life in the homelands.
Help to describe how to capture the Nation's Vision, Principles and Goals in leading sustainable economic activity within our homelands while protecting our lands and resources.
Provide strategies to affirm our priority rights in land and resource planning decisions within our homelands.
The working group has also delivered land use planning presentations to a number of First Nations communities. 
The draft handbook is currently under review and further Ecosystem Stewardship Planning work will be conducted in the coming months.
For background information regarding ESP, please click here or for the scope of ESP, please click here.