Cutting Permit (CP) or Road Permit (RP) Regulation
The BC First Nations Forestry Council is engaging with the Ministry of Forests, Lands and Natural Resources Operations and Rural Development in making sure First Nations communities are considered in new Cutting Permit and Road Permit Regulations.
RE: Refusal of Cutting Permit or Road Permit Regulation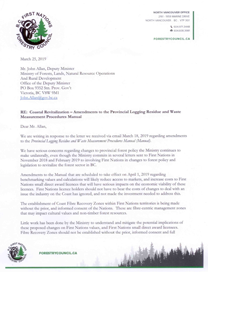 Dear Mr. Allan,
We are writing in response to the letter we received via email January 8, 2019 regarding the new Refusal of Cutting Permit or Road Permit Regulation.
We are frustrated by ongoing changes to forest policies and regulations by the province without meaningful involvement or consultation with First Nations. Changes without meaningful involvement of First Nations do not reflect recent case law, or fulfill commitments Premier Horgan has made for reconciliation with First Nations in BC, and full implementation of the principles of UNDRIP or TRC Calls to Action. Furthermore, the develoipment of this regulation and its enactment go again ...